6******Order your Lion Brand Yarn HERE!
Hooded Blueprint Scarf
Portland rains. A lot. We are kind of known for it, and as someone who tries to achieve maximum volume in his hair, I'm sure you can guess why I'm not always stoked on the rain. Although I hate getting my hair wet, I realized why it was always happening to me; literally none of my coats in my wardrobe had hoods! Since scarves are pretty much part of my identity at this point (I feel naked without them), I knew there would be a fix to this issue; a hooded infinity scarf! It's so cozy, warm, and has the function of keeping your head dry without having the hood hang on your back like a normal coat or hoodie, which I think is such an added bonus.
Today, I bring you the Hooded Blueprint Scard Made from Lion Brand Yarn's Jeans Yarn, it's such an easy project to get done over the weekend!
If you would like to purchase the Ad-free, printer friendly PDF version of this pattern, you can head HERE to get it from Ravelry!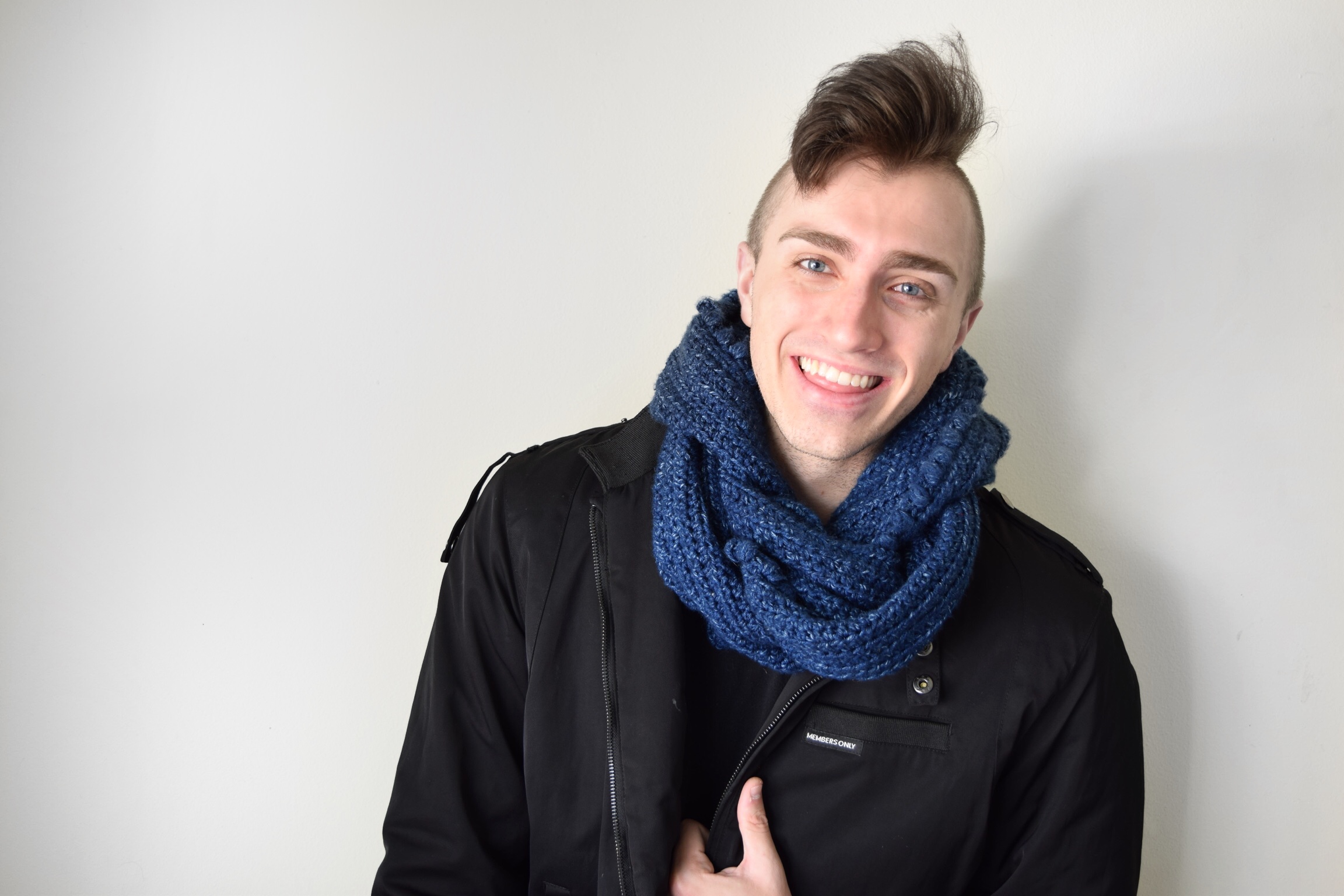 Skill Level: Easy
Materials:
2 Skeins in Jeans Faded (any worsted weight will work!)
6mm hook
Darning Needle
Scissors
Stitch Marker
Gauge: 14 sts x 12 rows = 4×4″
Abbreviations:
Ch – Chain
Sc – Single Crochet
Inc – Increase
Hdc – Half Double Crochet
Rep- Repeat
( ) – number of stitches at the end of the round
Here is the free pattern!
Ch 177
Row 1: Into second chain from hook, hdc. Hdc across until end of the chain. (176)
Row 2-35: Ch 1, turn. Hdc across (176)
Row 36: Ch 2, Puff Stitch into first stitch. *Skip one stitch, puff stitch into next, repeat from * until end of row.
Once you have the full piece, it should look like this! (Down below)
When you've finished this part up, fold you work in half. Sew together the two unattached ends together.
When folded, you will sl st across to combine the scarf.
On the long side, you will continue slip stitching (or sewing) down the side for 8 1/2 inches (this creates the hood!) Down below shows where you will be seaming it together:
When its pulled open like this, this is how the hood will look when sewing down the LONG end!
You may not sell my patterns or claim them as your own. You may make items to sell (i.e. on Etsy, at craft fairs) from my patterns but I ask that you link back to my blog and provide credit for the pattern. You are welcome to share my patterns on social media so long as you link back directly to my blog post (providing the link). No copy & paste of my patterns will be allowed under any circumstances.
Be sure to tag @knot.bad and @yarnpunk on your socials and use the #yarnpunk!