This post was sponsored by JOANN– My favorite craft store to visit for all my yarn and tools that I use. Also, you can't resist all their coupons!
I am so excited about this project!!
I have dabbled with so many different projects over the years and lately I have been all in on my Amigurumi projects when I am working with JOANN stores. It's definitely my specialty but JOANN challenged me this month and asked for something that was in the domain of a wearables. I have done some stuff like that butttt time just isn't on my side for some of these projects. So I had to be creative!
I went with an accessory for this months project – I have created a fun tote bag for the spring and summer! Honestly, it's good for all year round but the idea behind it fits these seasons better. JOANN is always helping me keep relevant.
IF you couldn't tell what it was by the photo above and the title, it's a Lily Pad! You may have seen some of the thick chained bags before over on Tik Tok but I wanted to find a way to put my own spin on the project. I think I did an okay with doing so! What do you think?
I love chains.
Ever since I started crocheting, I have always wanted to make crochet chains a staple part of my look. I was able to introduce accessories into my wardrobe that felt like me, here is an example!
The biggest hurdle here was, getting giant yarn was just too expensive. So yea, it was just not in the budget at the time to create scarves for $200+. It wasn't until some time had passed that I lost the love for it but JOANN came out with their own unique yarn of jumbo yarn called Tubular!
I was so excited about this. I unfortunately got bogged down with so many other things, putting this yarn in my hands was on the back burner. When I finally had the chance to make a pattern with it, JOANN discontinued the yarn which was a tough break to say the least.
However, I am back to let you all know that JOANN now has their Big Twist Tubular Yarn back on the shelves! I am not letting this opportunity pass me so I am thrilled to have created something with it.
The yarn.
Big Twist Tubular Yarn from JOANN is so fun. It doesn't quite feel like normal yarn that we are used to – for this project, I didn't even have to use a hook! There is a hook size that it does call for but for this project, I just used my hands. Which is a work lout when you're not used to it!
Like the name suggests, it feels like you are using "tubes" They are fabric tubes that are filled with polyfill. and they feel pretty stiff at first but they quickly become soft and easy to pull.
They only downside to this yarn is the price tag. Currently at retail price, this yarn runs for $25 a skein. I know that feels costly there are a few things to keep in mind here:
JOANN often has sales going on and I was able to get each skein for $18 when I started this project!
JOANN always has coupons readily available via newsletter, flyers, and / or on their app! You typically won't ever be paying full price.

This kind of yarn is so unique and the projects you can make are well worth the price. Especially when you consider how much wool yarn costs at this size (triple digits easy)
Is this bag practical?
Yes absolutely!! When going out to take photos was my first time rocking it in public. I just love how much of a fashion statement this accessory is. I was able to receive a few verbal compliments pretty quickly and as we walked through the park and Saturday market, I felt the eyes and subtle murmur about my bag. If you don't want the attention, this may not be for you. I however love that people take notice to crochet!
This project does act as a proper bag though – I was able to hold my wallet, phone, hand sanitizer, mask, and a few other small items. The bag is heavy to begin with so keep that in mind! I am so glad JOANN has yarn that I can create such a confidence booster of a bag.
I think creating it to be the shape of a lily pad makes it feel unique and I am excited to explore more projects with this kind of material! And yes, it really is this neon color.
So where can you find what you need?
You can find every single thing I used for this project from JOANN stores and you will see all of that hyperlinked for you. JOANN is my favorite place to go for materials and the yarn I love the most for amigurumi can be exclusively found there as well. When purchasing, I earn a little bit of the commission, so thank you for supporting me as a blogger!
This yarn is a ton of fun to use – have you tried out Bernat Baby Blanket Sparkle Yarn? This yarn is also involved in the making of this project. I don't typically gravitate towards yarn that has an extra material to it but this one works really well. I like the dimension it gives and you can't feel it at all which is nice!
To find the pattern, just continue scrolling down the post to find all the written instructions and photo tutorials. If you have any questions, contact me!
All editorial content and https://www.joann.com/projects are intellectual property of Vincent Green-Hite, designer of Knot Bad.
This post was sponsored by JOANN Stores but all ideas and opinions are my own. Please do not claim this pattern as your own. If you wish to share this pattern, you may link to this pattern but please do not reprint it on your site. You may keep a copy for your own personal use but please DO NOT sell the pattern or distribute it.
You may sell products made from this pattern but please clearly credit the design to Knot Bad and link it my website knotbadami.com Make sure to post it! Use the hashtag #yarnpunk and #handmadewithjoann when posting it and please feel free to tag me and show me how yours turned out! You can also find the Facebook group and subreddit r/yarnpunk to post to as well!
My other social media platforms you can find me at:
Instagram: @knot.bad
Tik Tok: @knotbad
Twitter: @knotbadcrochet
So here's what you'll need: (Click to be redirected)
2 Skeins in Big Twist Tubular Yarn (In Green)
Bernat Baby Blanket Sparkle (in Sunshine)
Bernat Baby Blanket Sparkle (in Hot Pink)
Bernat Baby Blanket Sparkle (in White)
No Hook – Just fingers!
Skill Level:
Easy+
Dimensions
Height (Bag): 14″ inches roughly
Height (Bag with handles): 26″ inches roughly, the handle will stretch over time
Width: 15″ inches roughly
Abbreviations (In US terms)
Sl st – Slip Stitch
Sc – Single Crochet
Inc – Increase
BLO – Back Loop Only
FO – Finish Off
( ) – Number of stitches
Don't forget to pin for later!
Notes:
The tubular yarn is used up

This pattern is worked worked with your hands – it is okay to take breaks during the process!

This pattern is written in US terms

You can find helpful tutorials throughout, but if you would like to find some of my tips and tricks you can head HERE!

The photo for each step will be found BELOW explanation.

Lets Get Started!
(The written tutorial will be found in the beginning below for those who know how to crochet with your hands. Afterword, you will find the photo tutorial for each step which will be helpful for everyone!)
Main Body of Bag (Make 2 panels)
Begin in green
Row 1: 6 Single crochet into Magic Ring (6) (Click here for video tutorial!)
Row 2: Ch 1, turn. *Inc* across. (12)
Row 3: Ch 1, turn. *Sc, Inc* across (18)
Row 4: Ch 1, turn. *Sc 2, Inc* across (24)
Row 5: Ch 1, turn. Sc across in the Back Loops Only across (24)
Finish of and pull yarn through (leaving about 40-45inches)
Panel 2: REPEAT
Do NOT finish off and leave single crochet loop!
Large Flower (In White)
Chain 33
In second chain from hook, Dc. Dc x 2 into the same stitch (3 Dc in total). *Slip stitch into the next stitch. Ch 1, skip the next stitch, Dc x 3 into the following stitch.* Repeat from * until the end and slip stitch into the final stitch.
Small Flower (in Pink)
Chain 13
In second chain from hook, Dc. Dc x 2 into the same stitch (3 Dc in total). *Slip stitch into the next stitch. Ch 1, skip the next stitch, Dc x 3 into the following stitch.* Repeat from * until the end and slip stitch into the final stitch.
Flower Bud (Make 1 in each size in yellow)
Large:
Rnd 1: 6 Single crochet into Magic Ring (6)
Rnd 2: Sc around (6) Slip stitch into next stitch and finish off.
Small:
Rnd 1: 4 Single crochet into Magic Ring (4)
Rnd 2: Sc around (4) Slip stitch into next stitch and finish off.

Now it's time for the photo tutorial! (The photo step will be AFTER the written step)
To begin, you will be creating your magic ring! This feels different with your hands rather than your hook.
Leave the tail in FRONT of your hand like so:
Wrap the yarn around your hand once to create and X – on the back of your hand, you will see 2 of your yarn strands:
Pull around to the front of your palm. With your thumb, hold it in place!
Looking at the back of your hand, insert your fingers underneath the first loop and pull the yarn under.
From here, twist the yarn so you have a loop: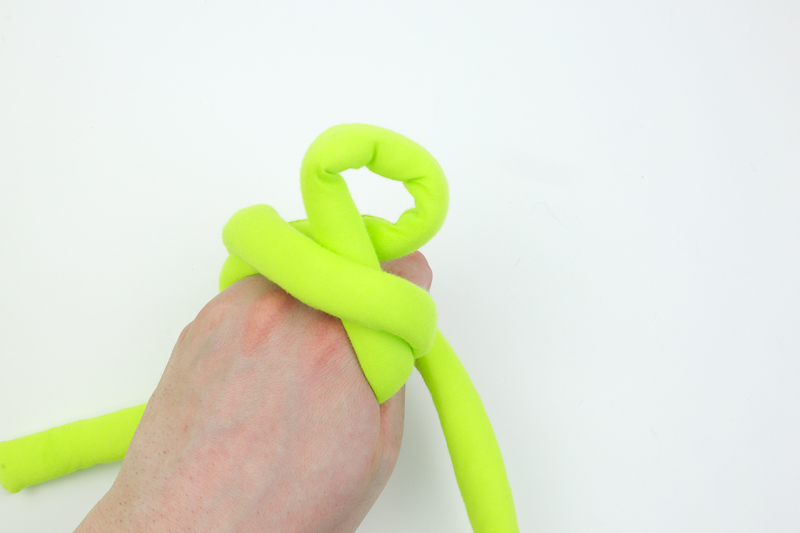 With your fingers already in the loop, pull the yarn that is to the LEFT of the center strand (circled below)
Pull the strand through to create a loop. Pull your tail out of the loop and you will have your magic ring!
Pull your tail out of the loop and you will have your magic ring!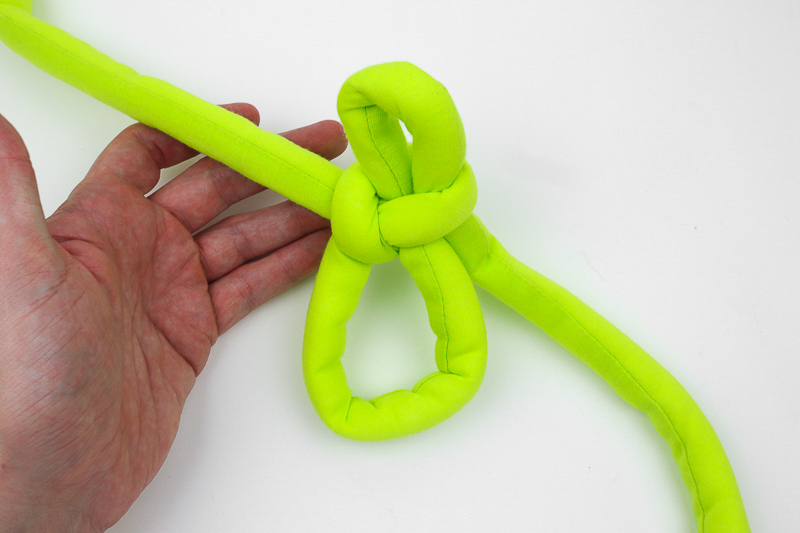 Single Crocheting
With your fingers started in the loop, put your fingers through the (magic) loop and pull the working yarn through.
You will have two loops (as you normally would with a single crochet) left on your hand
Grab the working yarn and pull through BOTH loops – you will be left with a loop!
Continue the same process with 5 more single crochets in the same loop (6 in total)
Congrats to you so far! Now, instead of circle crocheting the round, we are going to go back across.
From here, Ch 1.
Flip your work and turn.
Into the first stitch, you will insert your fingers and pull the working yarn through to perform another single crochet!
Once you finish your first single crochet, you will be increasing. Single crochet into the SAME stitch as you just worked into (2 total stitches in the same stitch)
Continue single crocheting 2x into each stitch across (increasing). You will be left with 12 stitches in total once you reach the end!
You will continue this same process for 2 more rows, follow the rounds as seen below!
Row 3: Ch 1, turn. *Sc, Inc* across (18)
Row 4: Ch 1, turn. *Sc 2, Inc* across (24)
As you continue for the next 2 rows, you will see the "split" in the project to indicate it's a lily pad!
We're almost done with out first panel! Here is how wide it should look:
From here, chain 1 and turn your work (flip)
We will be working in the BACK LOOP ONLY. So only through the back loop as the name suggests. These will be the loops that are closest to the side that the tail from your initial magic ring is on.
Continue single crocheting – Your work will stop being flat and look more like a "ridge"
Continue single crocheting all the way across into each back loop! Here is how that will end up looking.
You can now cut your yarn and pull through to finish off. Leave a generous tail as you will be using this to seam both panels together (45 inches will be plenty) You will be using the cut off yarn for later!
On the inside of the panel, we can now cut of the tail! Wrap around a stitch next to it and in the loop pull through. Weave through a few stitches and finish off
Now do the same thing all over again for the 2nd Panel! Come back to this portion of the pattern when you have both panels complete
*Note: When finishing the second panel, do NOT finish off your work. Leave the loop in place!
Seaming together
Place one panel on top of another:
With the end yarn of the first panel, you will use this to seam together. Pull the yarn through the first stitch (both loops) of the other panel:
From here, pull the yarn into the stitch next to the one your pulled through and pull up through the the second panel in the applicable stitch.
Continue weaving the yarn through both panels all the way across.
Bag Handles (We only have so much yarn when it comes to this project so be sure not to cut unless you're okay with the length! The length is adjustable)
We will be starting with the final stitch of the second panel (you should still have the loop in tact)
Here, pull the stitch out and single crochet through BOTH panels where you would normally single crochet.
From here, we will chain 19! (Be sure to take this part slow so your chains are consistent)
The size and length is completely up to you – keep in mind that these will stretch over time!
Into the first stitch on the other end, we will single crochet into the stitch pulling through BOTH panels (Crochet hook to indicate)
Pull your yarn through and finish off.
Second Handle – begin with using our yarn that was cut off!
With it, pull the loop through the same stitch that you just attached the first handle into:
Grab the working end of the yarn and pull through to attach:
Chain 19 just like you did for the first handle! Pull your fingers through the same stitch the first handle started from and single crochet (hook is indicating)
Pull the working yarn, loop, and knot into place tightly. Weave in through other stitches and loop / knot again for extra security. Push the last of the tail into the bag to hide (can cut for shorter)
Attaching the flowers
from above, you should now have the pieces all made! With the "Flower part, it should look like a twisted mess. Starting form the center, you can "wrap" around itself going downward and it'll create the flower shape.
With your darning needle on the bottom end, pull through each layer to secure with your darning needle to keep the shape
You will do the same thing with the smaller pink flower!
Place the flower on the bag where you would be happiest to see it (*When facing forward, min is on the right side towards the point of the lily pad. I wear mine on my right shoulder and I wanted this to be up front and center. Choose any placement you wish!)
With your darning needle, sew into place. You will **NOT** be going through the tubular yarn but instead, underneath it when working into the spider lily.
Continue sewing into place
With the yellow bud, you will sew into the center of the white flower. Do not sew into the tubular yarn but instead, just the white yarn!
It's not time to place the pink flower! Tuck it a little bit underneath the white flower (placement is up to you)
Sew into place going underneath the tubular yarn, not through it
Sew in the second (smaller) yellow bud!