You can grab the Ad-free, printer friendly, PDF from my Ravelry store by clicking HERE!
Before I started crocheting, I had been wanting to get into it so badly but just could not pick it up for the life of me. However, when I saw you could create crochet amigurumi dolls, something sparked in me and that's how I was able to make the final push into the craft!
March is National Craft Month and I am working with JOANN to bring you a crochet project, because everyone could use a bit of yarn in their life! So why did I bring up Pokemon up top?
Because today's post is inspired by a well loved Pokemon – Eevee! I just recently made my first cosplay and I think incorporating inspiration from other fandom could be such a fun and neat idea, and a perfect way to bring National Craft month to a close!
JOANN has everything you need to keep crocheting even beyond this month, and you can find the materials for what you need down below!
All editorial content and projects are intellectual property of Vincent Green-Hite, designer of Knot Bad. This post was sponsored by JOANN Stores but all ideas and opinions are my own.
So here's what you'll need:
3 Skeins of Lion Brand Jeans Yarn
Any worsted weight yarn will work!
1 Skein of Lion Brand Yarn Thick & Quick Go For Faux (White)
Dimensions
Width: 11.5″ inches
Length (when seamed): 33″ inches
Skill Level: Easy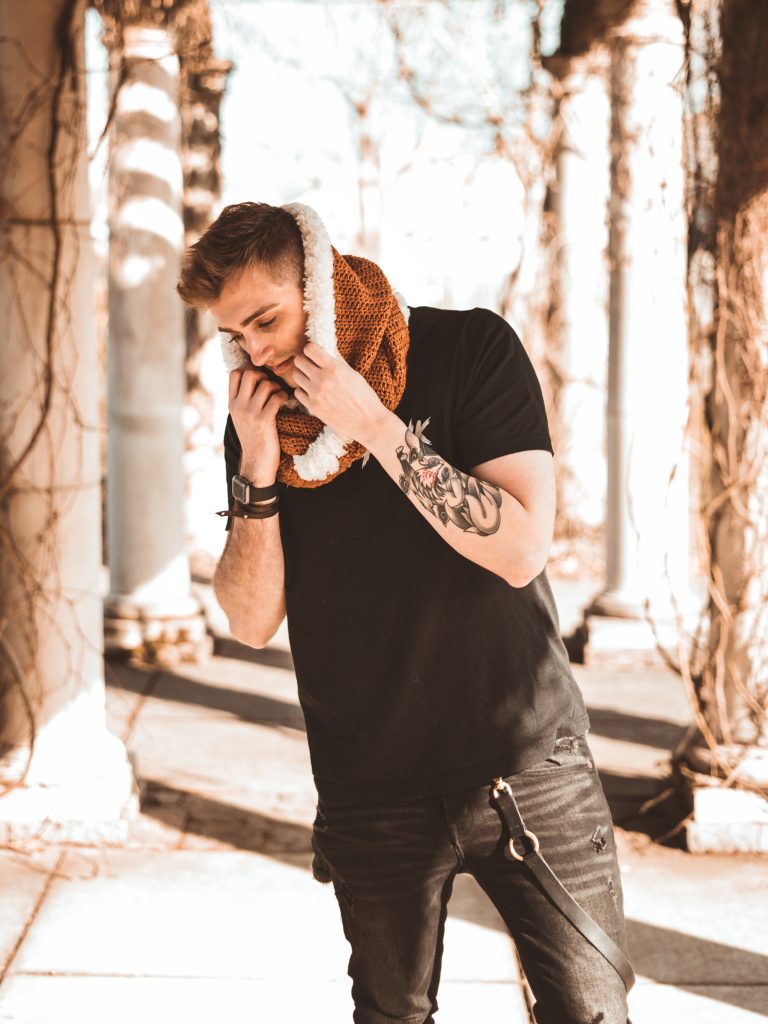 Gauge:
14 stitches x 11 Rows = 4×4″ inches
Abbreviations:
Ch – chain
Sl st – Slip Stitch
Sc – Single Crochet
Hdc – Half Double Crochet
Sl st – Slip stitch
FO -Finish Off
Let's Begin!
Ch 43
Row 1: In second chain from hook, Hdc. Hdc across (42)
row 2 – 170: Ch 1, turn. Hdc across (42)
That easy and mindless!
Seam up both ends together to create an infinity scarf!
Once seamed, ch 1, and continue along the adjacent side. This will be creating the hood! I went down 17 rows and it gave me a very enveloping hood – you may adjust accordingly if you would like!
Finish off and weave in ends!
Now, lets grab your 10mm hook and Go For Faux yarn!
Starting anywhere on the pattern (I would recommend starting on the bottom of your project, but this wont matter in the end) Attach your Go For Faux Yarn, ch 1, and Hdc into the same stitch. Hdc along the entirety of the scarf for the border! Be sure it's not on the same side as the weaved in hood!
Please do not claim this pattern as your own. If you wish to share this pattern, you may link to this pattern but please do not reprint it on your site. You may keep a copy for your own personal use but please DO NOT sell the pattern or distribute it.
You may sell products made from this pattern but please clearly credit the design to Knot Bad and link it my website knotbadami.com
Make sure to post it! Please feel free to tag me and show me how yours turned out!